THIS IS NOW SHUT DOWN, NOV HAS BEEN RELINQUISED.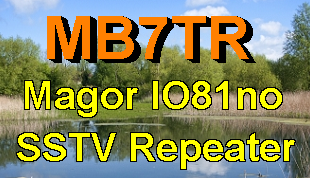 MB7TR is an SSTV repeater classed as a regenerative node operating on 432.525MHz NFM (narrow FM).
How To Use
MB7TR will repeat/regenerate your image in the following mode : the same as incoming
To have MB7TR repeat/regenerate your image, which you can transmit to it any SSTV mode, you need to do the following, all on 432.525MHz in NFM :
TX your CW ident (good practice)
TX a 1750Hz tone burst for around 2 seconds and key off
Listen and wait for MB7TR to reply with its CW ident – this signifies it is ready to repeat
TX your SSTV image within 10 seconds of the end of the CW ident
Sit back and wait for your image to be repeated out
You can use your SSTV software of choice, MMSSTV being one often used.
Hardware
PSU : 13.8v 25A linear
Radio : Motorola GM340 UHF
Time out timer (ToT) : 240 seconds
Forward power at back of radio : 2.25w
Antenna System gain (less other losses) : 5.27dB
Maximum Deviation : +- 2.5KHz
Emission code : 8K00G9W
Max ERP permitted : 8.9 dBW ERP
Diamond MX72N Duplexer – 0.1dB insertion loss
Aerial
Diamond X300N
Gain : 6.85dBd
Height : 8m agl
Elements : 5 x 5/8th on 70cm
Max wind : 50m/s or 112mph
Length : 2.9m
Max Power : 200w
Nominal Impedance : 50ohm
SWR @ 432.525MHz : 1.27:1
Coax Feeder
18m of Ultraflex7 from Messi & Paoloni
2.23dB cable loss for the 12m feeder length (excluding connectors)
12.3dB loss for 100m at 430MHz
440watts at 430MHz handling
75pF/m +- 2
83% velocity factor
50ohm nominal +-3
Terminated N-Type both ends (n-type to bnc adaptor at radio)
EMF Compliance
Compliance based on maximum power output defined by the NoV. Details Here
Logic
MMSSTV in repeater mode is used on a Windows10 PC.
The radio is in an outhouse and as such uses a USB audio dongle connected to a RaspberryPI 4. This PI4 runs VirtualHere which essentially brings that USB audio dongle device over the LAN to the PC in the house. The system also uses a homebrew Arduino Pro Mini emulating a Kenwood TS480 and associated CAT commands (code here). That Arduino is also connected to the PI4 and the 'Kenwood TS480' appears on the same Windows10 PC as a com port. MMSSTV issues CAT commands to that com port to PTT the Motorola GM340 UFH radio.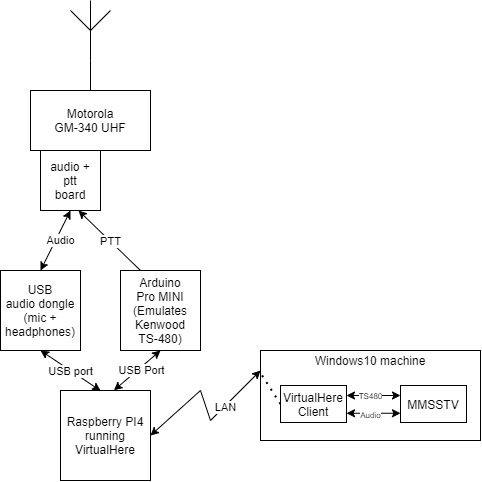 Supported SSTV Modes
MMSSTV supports the following SSTV modes.
Robot B/W 8

Robot B/W 12
Robot 24
Robot 36
Robot 72
AVT 90
Scottie 1
Scottie 2
Scottie DX
Martin 1
Martin 2
SC2-180
SC2-120
SC2-60
PD50
PD90
PD120
PD160
PD180
PD240
PD290
P3 203
P5 305
P7 406
Issues/Problems
If the are any issues please contact me via [mb7tr <at> grange-lane.co.uk]