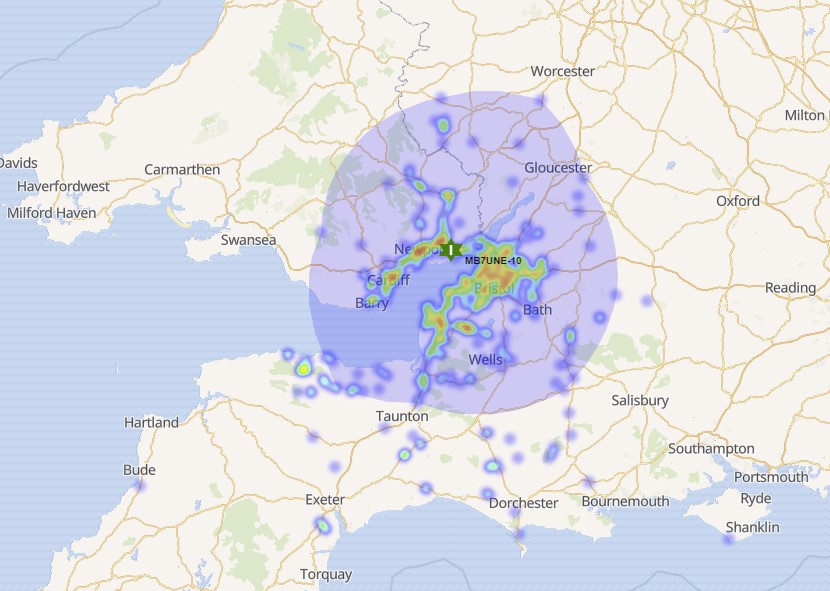 MB7UNE is an APRS gateway system running on 144.800MHz. The setup consists of the following :
Hardware
PSU : 13.8v 25A linear
Radio : Motorola GM340
Time out timer (ToT) : 30 second
Forward power at back of radio : 5.87dBW (approx. 3.8 watts)
Antenna System gain (antenna gain less coax loss) :

3.43dB

Maximum Deviation : +- 2.5KHz
Emmission code : 8K00G2DCN
Max ERP permitted : 9.4dBW (8.7W)
Diamond MX72N Duplexer – 0.1dB insertion loss
Aerial
Diamond X300N
Gain : 4.35dBd
Height : 14m agl
Elements : 2 x 5/8th on 2m
Max wind : 50m/s or 112mph
Length : 2.9m
Max Power : 200w
Nominal Impedance : 50ohm
SWR @ 144.800MHz : 1.4 : 1
Coax Feeder
12m of Ultraflex7 from Messi & Paoloni
0.82 db cable loss for the 12m feeder length (excluding connectors)
6.9db loss for 100m at 144MHz
910watts at 144MHz handling
75pF/m +- 2
83% velocity factor
50ohm nominal +-3
Terminated N-Type both ends (n-type to bnc adaptor at radio)
EMF Compliance
Compliance based on maximum power output defined by the NoV. Details Here
Logic
MB7UNE uses a WX3in1 Plus 2 from MicroSat. It provides the following features :
Digipeating – receiving of APRS RF packets, decoding and if valid will repeat them out if required. The hop count is used in this decision, and decremented if the packet is digipeated. A trace is also added. The packet will be dropped if a number of checks fail.
iGate – will take APRS-IS gateway packets and will send them out over RF. There are a number of conditions required for this to happen, such as if a station is local and has it been heard in the last 30 minutes. There are also a number of filters that prevent RF 'flood'. MB7UNE will also inject APRS packets heard via RF into the APRS-IS internet system.
Monitoring – temperature and psu voltage are included in the position aprs packet, sent out every 15 mins or so. This temperature sensor is attached to the back of the WX3in1 and as such is shack temp, not outside temp.
If the are any issues please contact me via [mb7une <at> grange-lane.co.uk]